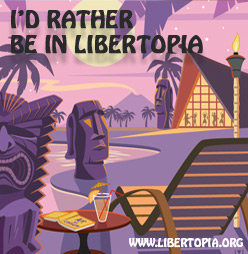 In case you need a reason to come to San Diego in October… here it is!
Two weeks from now, from October 11-14, the third annual Libertopia festival will be taking place in San Diego at Humphrey's Half Moon Inn.
A few of us from the blog will be there – me, Gary Chartier, and Roderick Long. And if you're into the whole "Free Market Anti-Capitalism" thing, then Libertopia is definitely the place for you to be. Roderick and Gary will both be giving talks, as will Sheldon Richman and Charles Johnson. See the full schedule here.
But one does not do Libertopia justice merely by describing its academic talks. In fact, one really doesn't do Libertopia justice by describing it at all. It is…a spectacle. Rod has some pics. But you just gotta be there to really grok it.
So come on out! And if you see us, please introduce yourself and say "Hi."