Symposium on Jacob Levy's Rationalism, Pluralism and Freedom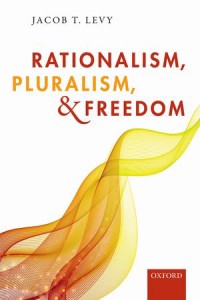 What should liberals think about so-called "intermediary" groups like churches, the Boy Scouts, and universities? On the one hand, such groups can help to protect individual liberty by serving as a check against the monolithic power of the centralized state. On the other hand, those groups can and sometimes do threaten the liberty of both group members and outsiders.
Jacob Levy's Rationalism, Pluralism, and Freedom is a fascinating exploration of these questions through an investigation into the history of liberal ideas. On Levy's analysis, there are two equally important but ultimately irreconcilable strands in liberalism: a rationalist strand that seeks to impose uniformity, order, and and equality upon the social order, and a pluralist strand that is skeptical of the central state and friendly toward local and customary forms of organization.
Given those descriptions, it might be tempting for readers of this blog to think of rationalism as a statist view, and pluralism as the classical liberal alternative. But matters aren't quite that simple, and the underlying tension not that easily resolved. A radical libertarianism founded on a universal vision of human rights, for example, seems to be as much a rationalist view as the more state-centric forms of socialism. In both cases, a vision of society is based on a comprehensive vision of justice that is difficult to reconcile with, say, a robust form of federalism that allows local communities significant discretion in the organization of their own affairs. Justice is justice, and while the "framework for utopia" may allow within it significant room for self-direction, the framework itself is non-negotiable.
Ultimately, on Levy's view, the tension between rationalism and pluralism is one that we must live with, rather than overcome. Is he right? And if so, what institutional forms are best suited to striking the right balance?
All this week, we're going to be exploring these issues in a symposium on Jacob's book here at Bleeding Heart Libertarians. Starting later today, we'll be running a series of essays by scholars examining various themes and theses in the book. Those of you who haven't read it yet can get up to speed by reading some of the reviews here, or listening to this excellent interview Jacob did with Libertarianism.Org's Free Thoughts podcast here. For those of you in the DC area, you can also go to the book event Jacob will be doing at the Mercatus Center on January 21st.
Our contributors this week include:
Please join us for what should be an exciting and enlightening week of conversation!